Venue for Tutorials
Address
Faculty of Information Technology, Brno University of Technology
Božetěchova 2
612 00 Brno
Czech Republic
Web: https://www.fit.vut.cz
Email: info@fit.vut.cz
Getting to Tutorials Venue
From the main train station (Hlavni nadrazi): take tram No. 1 in front of the station, with the direction to Reckovice. Get off at the Semilasso stop. Then walk to the Faculty of Information Technology, Brno University of Technology.
From the Hotel International: walk to Ceska stop, get on tram No. 6 (direction to Kralovo Pole nadrazi). Get off at the Semilasso stop and walk.
Tickets for public transport in Brno: buy 20 CZK (15 min) tickets in a Tobacco shop (Tabak) or yellow vending machines at stops - they are good for almost all journeys within Brno. Stamp them once in a tram, bus or trolleybus. Tickets can also be bought from drivers but you need the exact change and they are a bit more expensive.
You can search for public transport connections at http://idsjmk.idos.cz/brno/spojeni/.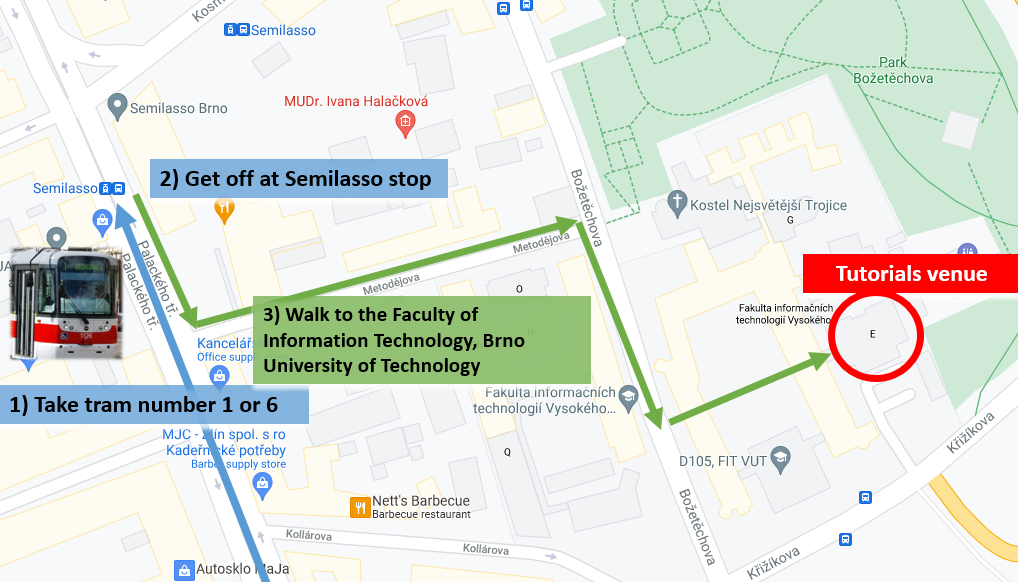 Map of Faculty of Information Technology, Brno University of Technology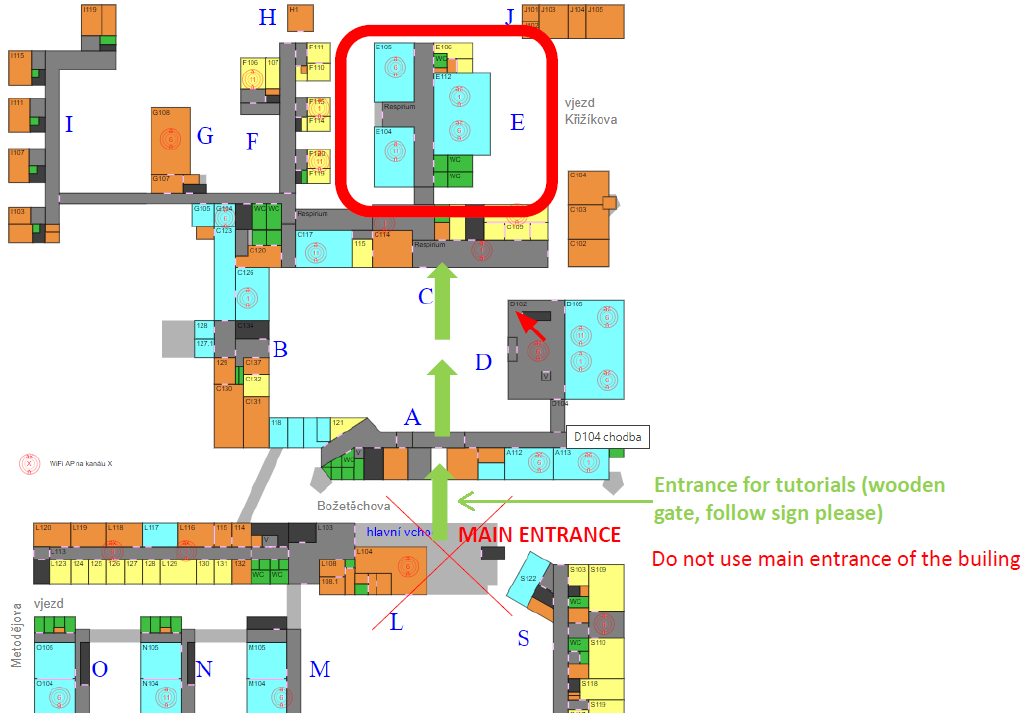 Brno University of Technology (BUT)
Established in 1899 by Emperor Franz Joseph I, Brno University of Technology (BUT) is the city's oldest university. Today it offers high-quality studies in engineering, scientific, economic and artistic fields. With its 20 thousand students and 8 faculties, BUT is the nation's largest technical university. Focusing on science and research, the University has five of its own research centres: ADMAS (Advanced Materials, Structures and Technologies), NETME (New Technologies for Mechanical Engineering), CVVOZE (Centre for Research and Utilization of Renewable Energy), SIX (Centre for Sensor, Information and Communication Systems and CMV (Materials Research Centre). It is engaged in two centres of excellence: CEITEC (Central European Institute of Technology) and IT4Innovations National Supercomputer Centre. The university focuses on cooperation with both EU and non-EU partners, has over 600 partnership agreements. BUT and JIC (the South-Moravian Innovation Center, joint venture with other Brno Universities) have been the backbone of regional transformation from heavy industry and agriculture to 21st century technologies. BUT actively participates in the definition of regional and national innovation strategies. BUT took an active part in the formulation of National Artificial Intelligence Strategy of the Czech Republic, and contributes to the Czech Republic position in the planning of the Digital Europe programme.
About the Faculty of Information Technology
The planned venue for tutorials of Interspeech 2021 is the campus of the Faculty of Information Technology of BUT. It is centered around an old monastery founded by Carthusian monks in the 13th century. In the past, the owner of the monastery changed several times and finally, since the middle of the 20th century, it has been owned by the Technological University in Brno.
After the establishment of FIT in 2002, the campus underwent a thorough reconstruction and was extended by several modern lecture halls and laboratory spaces. The reconstruction and extension won several architectural prizes for respecting the historical heritage while at the same creating modern and functional spaces. Nowadays, it provides a base for more than 2500 BUT FIT students and 300 academic, research and support staff. The campus forms an integral part of Kralovo Pole and regularly hosts events such as workshops, and conferences.